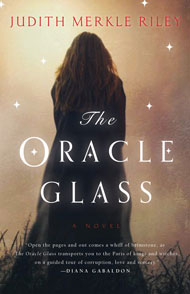 "Chilly, witty, and completely engrossing. With a cheerful skewering (historically grounded) of the sheer, cretinous awfulness of the Sun King's satellites, plenty of skittery action, and a wisp of the supernatural. Great, good fun. —Kirkus Reviews
"...a remarkable tour de force and a compelling read." —Jean Auel
"It's like opening a bottle of magic elixir, out comes a swirl of scent and sound and sight, and in a flash, you are drinking deep of a brew of love and poison...." —Diana Gabaldon
A true-crime story with a touch of the occult, set in 17th century Paris. More/Less
Purchase: Amazon | Barnes and Noble | Books a Million | Indie Bound
It is the reign of Louis XIV, the Sun King, and a Queen of Shadows rules in secret over Paris. So great is the power of La Voisin that even the king's mistress, Madame de Montespan, is dosing her royal lover with the sorceress queen's aphrodisiacs. Ladies of the highest fashion frequent the "fortune tellers" of her secret society to purchase abortions, luck charms, and poisons as easily as they might order a new gown.
Into this world of brilliant debauch and evil enters a dazzling and mysterious figure, the Marquise de Morville. She is rumored to be over one hundred and fifty years old, with powers to read the future in the swirling waters of her oracle glass.
In fact she is Genevieve Pasquier, a precocious, crippled adolescent girl with genuine prophetic powers, abandoned by her family and taken up and trained by La Voisin, the Shadow Queen, to enter the very highest court circles. Shrewd, witty, and observant, Genevieve carries off her role as an ancient prophetess with flair, even though her heart is torn with a young girl's emotions.
But just as she is on the verge of discovering true love, the Chief of Police in Paris, Gabriel Nicolas de la Reynie, is on the verge of discovering La Voisin's network of poisoners and sorcerers. Can Genevieve escape the stake? Who will live and who will die in the wake of the king's terrible vengeance?
---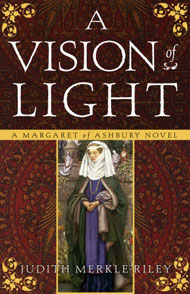 "Rich with the ambiance and flavor of the Middle Ages . . . a fourteenth-century story told with a twentieth-century sensibility." —The New York Times Book Review
"Fascinating and factual . . . if all chronicles of earthly life were recorded with such drama, flair, and wit, the world would be filled with history majors." —Los Angeles Times
Amid the horrors of the Black Plague, a village girl receives a divine vision that sends her out into the world as midwife and faith healer, and straight into the chambers of the English Inquisition. Faith, humor, and a certain homely practicality keep Margaret afloat in a world that has lost its bearings, and bring her at last to true love. More/Less
Purchase: Amazon | Barnes and Noble | Books a Million | Indie Bound
In the year 1355, Mistress Margaret Kendall, wife to a merchant of the City of London, hears a Voice directing her to write a book. Illiterate and determined, she convinces everyone she is under marching orders from God himself — except for Brother Gregory, her grouchy scribe, who has taken on the disgraceful job of copying for a woman only because of his empty purse and even emptier stomach.
As Margaret narrates the story of her adventurous life as midwife and healer, Brother Gregory grows sourer and sourer. Could it be that she has actually been guided by the very Vision of Light that has always eluded him?
---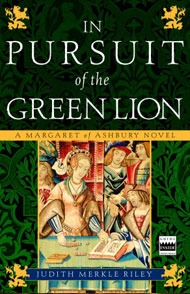 When Margaret's newly wedded husband vanishes in France during the Hundred Years' War, she evades her rapacious in-laws and goes alone to find and ransom her beloved. More/Less
Purchase: Amazon | Barnes and Noble | Books a Million | Indie Bound
The further adventures of Margaret of Ashbury, widowed by the death of Master Kendall, and remarried into a family of the petty nobility.
When her husband disappears in the Hundred Years War, she discovers her greedy in-laws have no intention of trying to retrieve him, because then the whole of the fortune she has inherited from Master Kendall will be theirs. Pregnant and without a penny, she sets off for the war-torn continent to find and ransom her beloved.
Luckily she is accompanied by resourceful friends, one of whom is an alchemist convinced he is hot on the trail of the Green Lion, the secret chemical formula that will enable him to create gold. Surely there ought to be enough left over for a little thing like a ransom from the most bloodthirsty nobleman in France...
---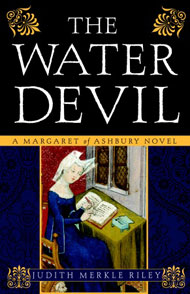 Margaret returns home to a family in chaos. Even God is a bit troubled about straightening out the mess, but Margaret is dauntless. More/Less
Purchase: Amazon | Barnes and Noble | Books a Million | Indie Bound
Margaret's true love has returned from the wars, and her life is as nearly perfect as that of a mother of rambunctious children can be — if only she didn't have in-laws! In particular, her wily old father-in-law has run into debt again. To save his woodlands from a greedy abbot with a penchant for building, he has decided to sell the marriage of Margaret's precocious twelve year old daughter against her will.
As all parties arm themselves with shyster lawyers, bribes and false claims, Margaret turns to her old friend Brother Malachi to forge the documents that will save her daughter. What no one understands is that the quarreling has roused the ancient being that dwells in a spring at the center of the disputed woodland. The watery creature has its own plans, and its eye on the possession of Margaret's unguarded infant son....
---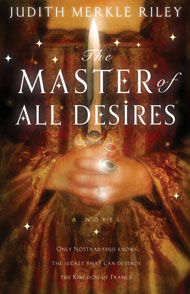 "At her best here, Riley has concocted a delightful blend of history, romance, and the supernatural...." —Booklist
"Another dazzling mix of history, romance, and the occult from Riley....." —Kirkus Reviews
"Again mixing history and fantasy with elan, the author of The Oracle Glass and The Serpent Garden offers a tightly woven, suspenseful, and fiendishly funny novel....Lush period detail and sprightly dialogue laced with humor and courtly pomp....." —Publisher's Weekly
A millennium novel set among the magicians, astrologers, and prognosticators of the renaissance court of Catherine de Medici, Queen of France and patroness of Nostradamus. More/Less
Purchase: Amazon | Barnes and Noble | Indie Bound
It is 1556 and the queen's astrologer, the prophet Nostradamus, has uncovered a secret that could destroy the kingdom of France. He has discovered that the queen, Catherine de Medici, a notorious dabbler in Black Magic, has decided to seek out the legendary Master of All Desires in order to get rid of the king's mistress, Diane de Poitiers.
But she does not understand that the Master, a living, mummified head residing in an antique coffer, is the very quintessence of malice, twisting the wishes that he grants to bring destruction and damnation to everyone around him.
Through chance, the box containing the Master has fallen into the hands of a bluestocking poetess, Sibille Artaud de la Roque, who is full of her own desires: for beauty, for artistic greatness, and for a dashing, brilliant cavalier. Can Nostradamus stop these two determined ladies from wishing the entire kingdom to perdition?
The three-way battle that ensues — between a prophet who scorns poetry, a woman in love, and a sly and ruthless queen — is set in a world where colorful court pageantry conceals a nation balanced on the brink of bloody civil war.
---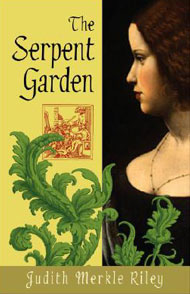 "A new and enchanting Riley period masque...Spooky, riotous, headlong action, ivory-clear satires of power players, a spot of comic grue, enticing period ambiance, and prose alluringly luminous: a top-notch re-creation" —Kirkus Reviews
The adventures of a woman miniature painter caught in the dynastic intrigues of Henry VIII and his arch-rival, Francis I. More/Less
Purchase: Amazon | Barnes and Noble | Books a Million | Indie Bound
When Susanna Dallett throws her philandering husband's mending into the fire, she doesn't realize she is on the verge of an entirely new life. For years she has painted hands and draperies in her husband's famous portraits, prepared his brushes and mixed his colors.
Now she enters into forging copies of his works for pocket money, and when he is killed by an aggrieved husband, she finds she is in possession of a career of her own, that of paintrix in the luxurious court of the infamous Cardinal Wolsey.
Shipped to France for the wedding of Mary Tudor, Henry VIII's younger sister, to the elderly king of France, she is among the English contingent abandoned to their fate when the old king dies. Alone and broke in a strange country, Susanna relies on her wit and talent, with an occasional assist from the eccentric and rather forgetful Angel of Art, to forge a new and happy future.
---